How do the LPC BS EN 12845:2015 changes affect you?
BS EN 12845:2015 supersedes BS EN 12845:2004+A2:2009 which was withdrawn on 31 December 2015.
In January 2016, The Loss Prevention Council (LPC) Rules for Automatic Sprinkler Systems Incorporating BS EN 12845 were revised, meaning numerous changes to the LPC rules which will affect the sprinkler system and how the other building services integrate with it.
The new rules will apply to all sprinkler contracts, with a suggested realistic transition period of 3 months' minimum provided from the FPA. The LPC rules are authored by the Fire Protection Association (FPA), an insurance led association, and therefore deviation from the LPC requirements may invalidate or risk insurance cover.
Below you will find a few extracts of changes within BS EN 12845:2015:
Table 18 – Maximum water delivery time – Dry and alternate installations

To be replaced by TB208 (or TB219)
TB208.4.1 – Size of installations (Replaces BS EN 11.2.2)
The maximum time between a single sprinkler opening and water discharging shall not exceed the value in table TB208.T1. The test shall be carried out using the remote test valve specified in TB208.3.4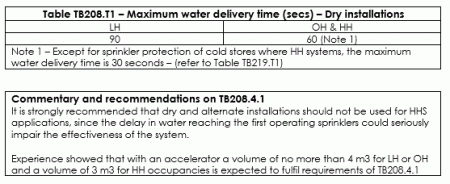 TB234 High Hazard Storage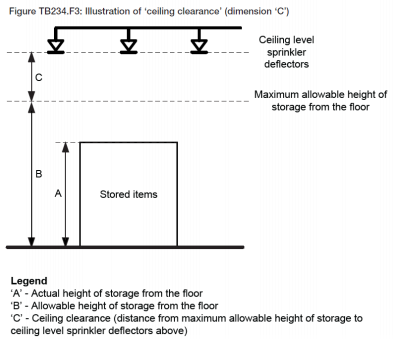 Alternative solution to excessive ceiling clearance problem added
Replaces and improves BS EN clause 7.2.2.3:
Published as C&R to TB234.4.2 (because it is still not considered the bet technical solution)

Overview of all changes introduced in January 2016: 
LPC Rules "Introduction" section: updated to suit latest edition. Guidance reinstated about conventions and significance of: text notes, table notes, normative and informative annexes.
Updates to BS EN 12845 'tabbing' to Technical bulletins, changes to cross referencing, editorial changes as necessitated by the release of EN 12845:2015 edition.
Publisher information included in LPC Rules front-matter
LPC Rules ISBN number updated
TB201 Suitable sprinkler components and services: Updates in relation to quality of components and related approvals. Updates to referencing.
TB203 Care and maintenance of automatic sprinkler systems: pump set servicing and maintenance minimum requirements checklist added. Commentary and recommendations on ROVs (remotely operated vehicles) and tank reconditioning added. Clarifications added regarding BS EN Clause 21 Third party inspection. Editing to suit BS EN 12845:2015
TB204 Sprinkler System Grading: editing to suit BS EN 12845:2015
TB206 Passive Fire Protection of sprinklered buildings: updates to referencing
TB207 The selection of sprinkler heads: changes made consistent with updates to BS EN 12845:2015, TB234 (2015) and TB209 (2015)
TB208 Supplementary requirements for sprinkler installations which can operate in the dry mode: technical changes made in relation to maximum water delivery time and editorial changes made to maximum size of wet pipe and pre-action installations
TB209 ESFR Sprinkler Protection: numerous changes made in responses to latest test data and BS EN 12845 Annex P.
TB210 Automatic sprinkler pump installation: changes to stalled rotor currents and other electrically power supply issues. Updates to referencing. Editing to suit BS EN 12845:2015
TB214 Sprinkler protection of flammable liquid stores: changes to head sensitivity requirements. Editing to suit BS EN 12845:2015
TB215 Sprinkler protection of idle pallet storage: editing to suit BS EN 12845:2015
TB216 Sprinkler protection of aerosols: changes to design of in-rack protection (uppermost level of in-rack heads). Updates to referencing. Editing to suit BS EN 12845:2015
TB217 Categorisation of Goods in Storage: editing to suit BS EN 12845:2015
TB218 Water supply diagrams: terminology correction. Editing to suit BS EN 12845:2015
TB221 Sprinkler protection of schools: clarification to Scope
TB222 Ordinary Hazard Group 3 protection using Enhanced Protection Extended Coverage sprinklers: editing to suit BS EN 12845:2015
TB227 Pipework: hyperlink correction. Updates to referencing. Editing to suit BS EN 12845:2015
TB228 Revisions to BS EN 12845 Table 1: TB no longer required
TB229 LPC Rules for automatic sprinkler installations variations to BS EN 12845:2015: change to hazard classification of laundries. Changes to TB229.T6 – Maximum size of wet pipe and pre-action installations. Clarification of required accuracy of calculations. Editing to suit BS EN 12845:2015
TB232 Sprinkler installation control valve sets: Editing to suit BS EN 12845:2015
TB233 Water supplies for systems intended to comply with (ADB) Approved Document B life safety systems: Editing (including title change) to suit BS EN 12845:2015
TB234 Protection of High Hazard Storage (HHS) configurations: correction of errors, introduction of a further design solution for scenarios featuring an excessive ceiling clearance above the top of stored goods. Editing to suit BS EN 12845:2015
TB235 Control Mode Specific Application (CMSA) Sprinklers: new TB providing requirements and advice to potential users of new BS EN 12845:2015 Annex N on CMSA sprinklers
Supplementary guidance added/updated on: Sprinkler and smoke venting and Legionella.
Source: FPA, Dr Simon Bird
Engd, MEng, CEng, MIET, MIoD
Associate Director, Princial Consultant
---