Servicing, testing and maintenance
Servicing, testing, maintenance
In order to comply with 'LPC rules for Sprinkler Installations' which incorporates BS EN 12845:2015 and includes Technical Bulletin TB203:2015, the installer shall provide the user with a documented inspection and checking procedure for the system. The programme shall include instruction on the action to be taken in respect of faults, operation of the system, with particular mention of the procedure for emergency manual starting of pumps, and details of the weekly routine.
Servicing, testing and maintenance schedule
Records
A signed, dated report of the inspection shall be provided to the user and shall include advice of any rectification carried out or needed. Details of any external factors, e.g. weather conditions, which could have affected the results.
Quarterly Routine
General
The following checks and inspections shall be made at intervals of no more than 13 weeks.
Review of hazard
The effect of any changes of structure, occupancy, storage configuration, heating, lighting or equipment etc. of a building hazard classification or installation design shall be identified in order that the appropriate modifications might be carried out.
Sprinklers, multiple controls and sprayers
Sprinklers, multiple controls and sprayers affected by deposits (other than paint) shall be carefully cleaned. Painted or distorted sprinkler heads, multiple controls or sprayers shall be replaced.
Any petroleum jelly coatings shall be checked. Where necessary the existing coatings shall be removed and the sprinklers, multiple controls or sprayers shall be coated twice with petroleum jelly (in the case of glass bulb sprinklers to the sprinkler body and yoke only).
Particular attention shall be paid to sprinklers in spray booths, where more frequent cleaning and/or protective measures might be necessary.
Pipework and pipe supports
Pipework and hangers shall be checked for corrosion and painted as necessary.
Bitumen-based paint on pipework, including the threaded ends of galvanised pipework and hangers, shall be renewed as necessary.
NOTE  bitumen-based paint might need renewal at intervals varying from 1 year to 5 years according to the severity of the conditions.
Tape wrapping on pipes shall be repaired as necessary.
The pipework shall be checked for electrical earthing connections. Sprinkler pipework shall not be used for earthing electrical equipment. Any earthing connections from electrical equipment shall be removed and alternative arrangements made.
Water supplies and their alarms
Each water supply shall be tested with each control valve set in the system. The pump(s), if fitted, in the supply shall start automatically and the supply pressure at the appropriate flow rate shall be no less than the appropriate value in accordance with clause 10, recognizing any changes required by 20.3.2.2.
Stop Valves
All valves controlling the flow of water to sprinklers shall be operated to ensure that they are in working order, and securely refastened in the correct mode. This shall include the valves on all water supplies, at the alarm valve(s) and all zone or other subsidiary valves.
Further information can be found in the 'LPC Rules for Automatic Sprinkler Installations 2015, Incorporating BS EN 12845' on pages 123-128.
Reporting faults and recommendations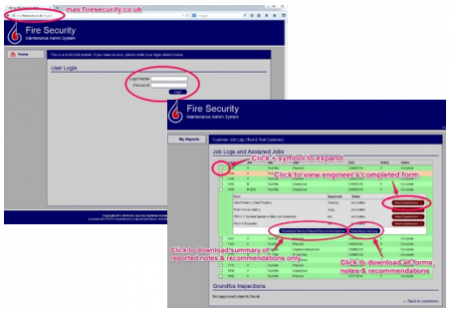 Following a visit from our engineers a comprehensive report is provided to the customer.
Our engineers use our bespoke electronic Maintenance Administration System, MAS, which has been specifically designed to offer consistent, comprehensive reports and provide clarity to the Engineer's findings.
Another added benefit is that every customer has their own login and reporting page, from which past reports can be downloaded at any time. A unique login would be created for you to access the system.
Need Help With Testing?
If you need any assistance please contact us on any of the below. Our trained staff will be on hand to answer your queries and offer advice.
Email: Info@firesecurity.co.uk
Telephone: 01440 705 815
Further Contact Details available on the Fire Security Website
---