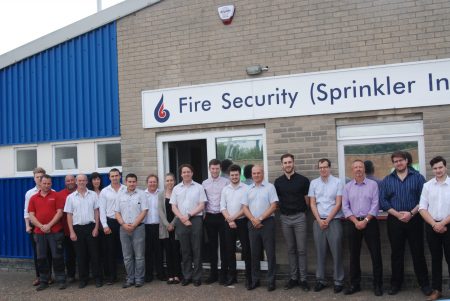 Fire Security (Sprinkler Installations) Ltd have been protecting lives and livelihoods from fire since 1972.
Providing a tailored complete all–in-one service for all your sprinkler installations needs, we take care of everything from design, manufacture, and install to servicing, maintenance, training and inspection. (using our own team of specialist installers and engineers) We also operate a 24-hour emergency service.
---
We are experts in automatic sprinkler system designs to BS EN 12845, FM Global and National Fire Protection Association standard. Offering advice on systems such as special risk, foam deluge, hose reel, hydrant, dry and wet risers.
Our happy customers return to us time again praising our knowledge, experience, quality workmanship, responsive customer service, maintenance cover, competitive pricing and detailed quotes and design drawings.
We work with our customers across the UK to help them find the right solution for their fire protection needs whilst ensuring their business can keep running while we work.
Working with business owners, builders, landlords and contractors, on new builds or extensions to current fire protections systems. We have worked with customers in industries including automotive, warehousing and logistics pharmaceutical, chemical and retail. We work with an impressive list of major customers including leading drug technology company Bespak, the UK's largest independent full service dental supplier The Dental Directory, Ransomes Jacobsen and PPG Industries. Each have their own unique set of requirements.
We are committed to the highest levels of quality and are a Loss Prevention Certification Board 1048-1 Level 4 approved sprinkler contractor, the highest UK certification level, and ISO 9001 Quality System accredited. Fire Security were founder members of the British Automated Fire Sprinkler Association, a member of the Fire Protection Association and have multiple safety schemes in procurement (SSIP) memberships including Safecontractor, Achilles and construction line.
---
Sprinkler Facts
Automatic sprinkler systems are used more than any other fixed fire protection system and over 40 million sprinklers are fitted world-wide each year.
Sprinkler systems have been proven in use for well over 100 years. Possibly the oldest in Britain was fitted in 1812 at the Theatre Royal Drury Lane and updated form is still in use today.
Losses from fires in buildings protected with sprinklers are estimated to be 1/10 of those in unprotected buildings.
In buildings fully protected by sprinklers:
99% of fires were controlled by sprinklers alone
60% of fires were controlled by the spray from no more than 4 sprinklers
Source: European statistics over 10 year period
Accidental discharge of water from all causes is 1 in 500,000 (per year of service)
Source: LPC
Accidental discharge of water due to manufacturing defects is 1 in 14,000,000 (per year of service)
Source: FM (USA) and LPC (UK) statistics